Its starting to look a lot like Christmas… I drove through Asheville today. Picked some of our friends up from the Asheville Airport. The Asheville Regional Airport is so small, its so easy to get in and out of there. I believe there are only 7 total terminals and maybe two or three baggage carousels. Needless to say, we enjoyed our drive through Asheville. We always do, especially if there is an event going on, or in our case, a holiday. Christmas in Asheville is a sight to behold. While many people from Western North Carolina aren't sued to big cities, Asheville could be a surprise. Hundred of small shops are lit up and have holly or wreaths in the windows. There is a huge Christmas tree in the center of the town. Lights are dazzling everywhere! Last year there was a break dancing Santa Clause.
Break Dancing Santa Clause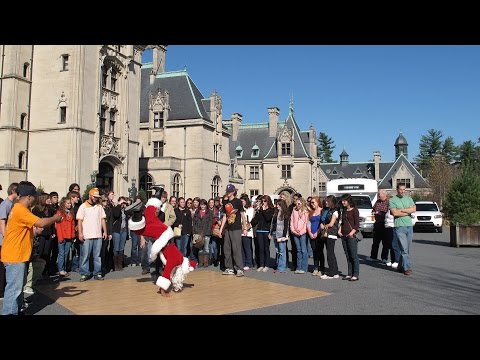 Some people have reported sightings of him this year… Its up to you to find him ahah!
Along with break dancing Santa there's a much lamer Rock Climbing Santa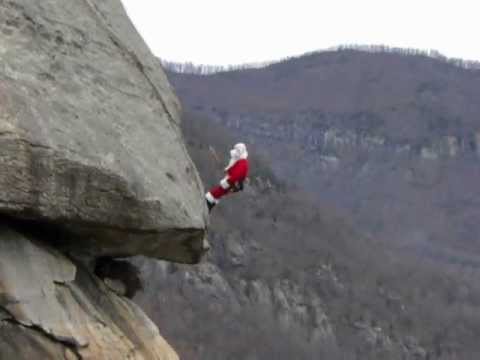 Christmas – What to do in Asheville
Of course, just driving through a Christmas Decorated Ashevegas isn't all there to do. The Biltmore House during Christmas is
a sight to see. And near the Biltmore, there are always Gingerbread house competitions at Grove Park Inn. Some of them get almost out of hand. There are more detailed than anything you have ever seen. Most of them look nicer than a doll house. I can recall seeing a Harry Potter castle (Hogwarts) as well as another giant castle. The artists take this very seriously.
But ginger isn't the only thing the Biltmore vicinity has to offer. There are dozens of trees, wreaths, ornaments, sculptures, lights, and more all inside the Biltmore. Its probably Asheville's number one Christmas Attraction (area).
Christmas Activities in Asheville NC
If you want entertainment the Flat Rock Playhouse always puts on a good Christmas theater show. This year they are running "Home for the Holidays" and "Plaid Tidings". Flat Rock is known as North Carolina's State Theater.
Shopping: Yes, shopping is always an attraction isn't it. Many stores will offer free cider or hot chocolate for visitors if the winter is kicking up a chilly wind, or if your unlucky enough to be out in a snow storm. If you're out shopping you might even run into a caroling group, and you will certainly see one or two people dressed up as Santa!
Plain, Carmike movies are always going to be available at the dozens of Asheville movie theaters. This Christmas offers Herald and Kumar 3D Christmas, which is rated R. A movie for your whole family to see would be Hugo. There are always some great DVDs to rent like Elf with Will Farrell, and How The Grinch Stole Christmas with Jim Carry.
And if you want to volunteer to help, there are always needy people come the holidays. There is a Christmas Jam clothing drive: Citizen Times
Christmas in Asheville is a wonderful experience that only Western North Carolina can host! WNC traditional Christmas mixed with a large city is a rare sight to see.